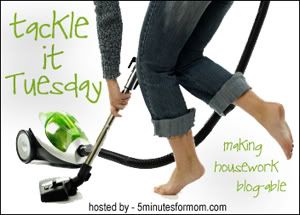 So I found this challange on a site I was taking a sneek peek at earlier this week. I decided that I am up for the challange! Here are the rules... Take a before picture of a place in your home that needs to be "Tackled..." Tackle it and then take the after pictures...
Here is my first post
His side... Before... Note the Hot Curlers... And Pads... My husband ROCKs letting al my junk bleed over to his side of the sink!

His Side... After

Her side... Before

Her side... After
Top Drawer Before
Top Drawer After
Middle Drawer Before
And After
The bottom drawer didnt need to be touched much... So you just get an after shot
If you have really scrolled down and looked at all these pictures...CONGRATULATIONS... you have just seen the REAL RitterB's. A side I dont share freely with the world. I want my house to look lived in but NOT messy! Since Noah has entered the family this has been quite the hard task to accomplish. Therefore... Tackle it Tuesday works for me. I will only allow one hour to accomplish a task.. If it is not finished by then I will have to leave it for the next day! It is summer and I plan on having fun everyday!